Posts for tag: oral hygiene
By Aventura Dental Group
December 26, 2015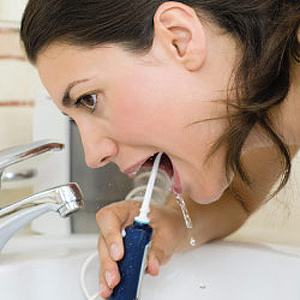 A critical part of effective, daily oral hygiene, flossing removes bacterial plaque from between teeth that can't be accessed with brushing. Unfortunately, it's often neglected — string flossing requires a bit more dexterity than brushing and can be difficult to do properly.
It can be even more difficult for people with implants or who wear orthodontic appliances. For brace wearers in particular, getting access to areas between teeth with string floss is next to impossible; the metal brackets and tension wire also have a tendency to catch and retain food debris that's difficult to remove with brushing alone.
Water flossing, using a device called an oral irrigator, is an effective alternative that addresses many of these difficulties. First available for home use in the 1960s, an oral irrigator delivers pulsating water at high pressure through a handheld applicator that forcefully flushes material from between teeth.
There's no question that string flossing is effective in plaque removal between teeth — but what about oral irrigators? A 2008 study looked at a group of orthodontic patients with braces who used oral irrigators and compared them with a similar group that only brushed. The study found that five times as much plaque was removed in the group using the oral irrigators as opposed to the group only brushing.
Oral irrigators may also be effective for people who've developed periodontal (gum) disease. In fact, oral irrigators coupled with ultra-sound devices are routinely used by dental hygienists to remove plaque and calculus (hardened plaque deposits) in periodontal patients. As with regular oral hygiene, though, it's important for patients with gum disease to include water flossing with daily brushing (at least twice a day) and regular cleaning sessions at the dentist to ensure removal of all plaque and calculus.
If you're interested in using an oral irrigator, be sure to consult with us at your next appointment. Not only can we recommend features to look for in equipment, but we can also instruct you on the techniques to make water flossing an effective plaque remover.
If you would like more information on water flossing, please contact us or schedule an appointment for a consultation. You can also learn more about this topic by reading the Dear Doctor magazine article "Cleaning Between Your Teeth."
By Aventura Dental Group
November 11, 2015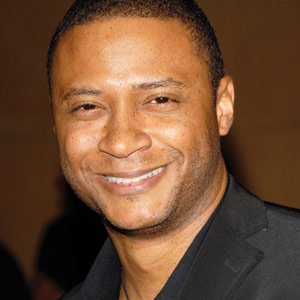 Can you have healthy teeth and still have gum disease? Absolutely! And if you don't believe us, just ask actor David Ramsey. The cast member of TV hits such as Dexter and Arrow said in a recent interview that up to the present day, he has never had a single cavity. Yet at a routine dental visit during his college years, Ramsey's dentist pointed out how easily his gums bled during the exam. This was an early sign of periodontal (gum) disease, the dentist told him.
"I learned that just because you don't have cavities, doesn't mean you don't have periodontal disease," Ramsey said.
Apparently, Ramsey had always been very conscientious about brushing his teeth but he never flossed them.
"This isn't just some strange phenomenon that exists just in my house — a lot of people who brush don't really floss," he noted.
Unfortunately, that's true — and we'd certainly like to change it. So why is flossing so important?
Oral diseases such as tooth decay and periodontal disease often start when dental plaque, a bacteria-laden film that collects on teeth, is allowed to build up. These sticky deposits can harden into a substance called tartar or calculus, which is irritating to the gums and must be removed during a professional teeth cleaning.
Brushing teeth is one way to remove soft plaque, but it is not effective at reaching bacteria or food debris between teeth. That's where flossing comes in. Floss can fit into spaces that your toothbrush never reaches. In fact, if you don't floss, you're leaving about a third to half of your tooth surfaces unclean — and, as David Ramsey found out, that's a path to periodontal disease.
Since then, however, Ramsey has become a meticulous flosser, and he proudly notes that the long-ago dental appointment "was the last we heard of any type of gum disease."
Let that be the same for you! Just remember to brush and floss, eat a good diet low in sugar, and come in to the dental office for regular professional cleanings.
If you would like more information on flossing or periodontal disease, please contact us today to schedule an appointment for a consultation. You can also learn more by reading the Dear Doctor magazine article "Understanding Gum (Periodontal) Disease."
By Aventura Dental Group
April 23, 2015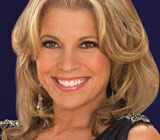 Vanna White has been a household name for the last 27+ years and is best known as the first female co-host of the game show, Wheel of Fortune. She radiates a warm, friendly, down-home appeal and says when describing herself, "what you see is what you get!" While this is quite true, there is so much more to her. She has received a star on the famous Hollywood Walk Of Fame, has starred in an NBC movie and written a book. She is even featured in The Guinness Book of World Records as TV's most frequent clapper, and most recently started her own line of yarn called Vanna's Choice with half of the proceeds going to St. Jude Children's Research Hospital. And while any one of these accolades could serve as the highlight of a lifetime for most, for Vanna they fall slightly short. Her favorite job is being mother to her son, Nicholas, and daughter, Giovanna.
The following are excerpts taken from an exclusive interview in Dear Doctor magazine, the premier oral healthcare resource for patients and consumers.
What is the secret to her dazzling smile?
Vanna's oral healthcare routine is the same today as it has been since her childhood — and one everyone can follow. She brushes her teeth at least twice a day (morning and at bedtime) and flosses her teeth daily. She also has strong feelings about flossing. "I think that flossing is the most important thing. I believe that dental floss helps a lot as it keeps your gums strong and looking younger."
What about bleaching, has she done it?
Absolutely! Vanna bleaches her teeth once or twice a year to help retain her naturally white teeth and to offset any discoloration from coffee and an occasional glass of red wine. "I have done over-the-counter and professional bleaching, but I do like the trays my dentist made because they fit perfectly." She also states, "Anything you can do professionally is probably better because I would assume that a dentist's ingredients are stronger than over-the-counter products."
Has she had any cosmetic dentistry?
When it comes to answering a question about cosmetic dentistry, Vanna is just as open and honest as she is about everything else — a trait for which she is known. "I had a bridge put in probably 30 years ago, where I had a tooth pulled and there was a space. And I did have a little tiny chip on one of my front teeth years ago that my dentist fixed. But that is it. Again, I feel very fortunate to have good teeth. The braces [from her childhood] straightened them out and there has been no need for any cosmetics since then."
Does she do anything to protect her teeth?
While she admits to occasionally forgetting to use her nightguard, a protective mouthguard worn during sleep, she firmly believes in their need. "I do sleep in a nightguard because I grind my teeth. I have a filling in the back that probably has been filled five times from grinding." She added, "Both of my children do have mouthguards that they wear for their sports."
Want a smile like Vanna's?
Contact us today to schedule an appointment or to discuss your questions about bleaching, cosmetic dentistry or mouthguards. You can also learn more about Vanna by reading the entire interview in the Dear Doctor article, "Vanna White — The Smile Defining America's Favorite Game Show — Wheel Of Fortune."