Posts for: October, 2015
By Aventura Dental Group
October 27, 2015
Our nerves serve a vital purpose, alerting us to bodily discomfort, injury or disease — we couldn't remain in good health for long without them. But when they malfunction due to genetics or disease, they can themselves become a source of pain and discomfort.
One such nerve disorder that affects the face is known as trigeminal neuralgia (TN) or tic douloureaux (from the French for "painful"). The nerves in question are the trigeminal, a pair that travel up from the brain stem through the skull into each side of the face where they each branch into the upper, middle and lower parts of the face and jaw. The pain can radiate from one or more of these branches.
TN is characterized by recurring episodes of brief but severe pain with accompanying muscle spasms. It may begin as a short twinge recurring over weeks, months or years before becoming increasingly painful. The slightest actions can trigger a painful episode: chewing, speaking, shaving or even the wind blowing on your face.
While it may be hard to determine its exact cause, it often seems to result from an artery or vein pressing on the nerve, causing it to signal pain at the slightest stimulation and then failing to stop transmitting when the stimulation is removed. It's also associated with other inflammatory disorders like multiple sclerosis where the protective insulation around a nerve is damaged.
Before receiving treatment you should undergo a complete examination to rule out any other facial pain causes like temporomandibular (jaw joint) disorders or a dental abscess. You may also need to undergo a neurological examination and possible MRI imaging to pinpoint the exact cause, like a tumor or blood vessel pressing on the nerve.
Although the condition may not be curable, there are several effective management treatments. The more conservative approaches usually involve medications to block the nerve's pain signals or decrease its abnormal firing. If this isn't sufficient to diminish symptoms, there are surgical options: passing a thin needle through the nerve to selectively prevent fibers from firing, or moving aside a blood vessel pressing on it. High-dose targeted radiation may also be effective, especially with older patients.
The best treatment approach will depend on the exact cause, your age and overall health. Whatever the approach, you can gain significant relief from the pain of TN.
If you would like more information on facial nerve disorders, please contact us or schedule an appointment for a consultation.
By Aventura Dental Group
October 04, 2015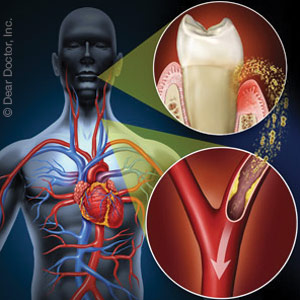 If you have periodontal (gum) disease, you probably already know you're in danger of eventual tooth and bone loss if the infection isn't brought under control. But if you also have diabetes, the effects from gum disease could extend well beyond your mouth.
Gum disease is a bacterial infection caused by plaque, a film of food remnant that builds up on tooth surfaces mainly due to poor oral hygiene. As the infection grows, your body's immune system responds by flooding your gum tissues with antibodies to fight it, resulting in inflammation. As the inflammation persists, though, it damages the gum and underlying bone tissue, which in turn leads to gum and bone loss from the teeth.
Diabetes also causes an inflammatory response within the body. The disease develops either as a result of the body's decreased ability to produce insulin to balance the glucose (sugar) levels in the bloodstream (Type 1) or the body develops a resistance to insulin's effects (Type 2). As a result diabetics experience abnormally high blood glucose levels, a condition called hyperglycemia. This triggers chronic inflammation that can lead to inhibited wound healing, increased risk of heart, kidney or eye disease, coma or death.
Gum disease can worsen diabetic inflammation, and vice versa. The effects of the oral infection add to the body's already overloaded response to diabetes. In turn, the immune system is already compromised due to diabetes, which can then increase the severity of the gum disease.
Research and experience, though, have found that pursuing treatment and disease management for either condition has a positive effect on managing the other. Treating gum disease through plaque removal, antibiotic therapy, surgery (if needed) and renewed oral hygiene will diminish the oral infection and reduce the body's immune response. Caring for diabetes through medication, diet, exercise and lifestyle changes like quitting smoking will in turn contribute to a quicker healing process for infected gum tissues.
Treating gum disease when you have diabetes calls for a coordinated approach on both fronts. By caring for both conditions you'll have a more positive effect on your overall health.
If you would like more information on the relationship between diabetes and gum disease, please contact us to schedule an appointment for a consultation.